Setup Wifi
Step 1
Click on [Wifi Settings].
Step 2
Select "Set Wifi configuration" > Wifi > "On".
Click [Save].
This will refresh the [Wifi Settings] page with all the options enabled.

Step 3
Click "Wifi information" > [Scan] to search for available networks.

Step 4
Note the SSID of your Wifi network (or highlight with mouse and copy (ctrl-c)).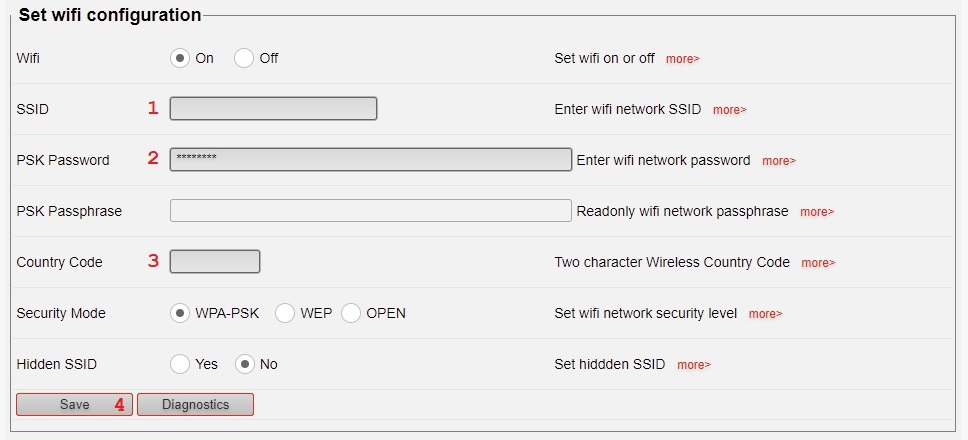 Step 5
Fill in the "Set Wifi configuration" fields.
Type your "SSID" (or paste (ctrl-v)).
Type your "PSK Password".
Type your "Country Code".
Select your "Security Mode".
Click [Save] to save your Wifi settings.
Info
Your "PSK Password" will be converted to a secure "PSK Passphrase".
Step 6
piCorePlayer should now be connected to your wifi network.
Check "Wifi information" > "Wifi IP" for the IP address being used.

Step 7
Click [Main Page].
Click [Reboot].
Quickly remove the LAN cable.
When piCorePlayer has rebooted, you should be connected via Wifi using the Wifi IP address.
More information
The Software is provided "as is" without warranty of any kind, either express or implied, including without limitation any implied warranties of condition, uninterrupted use, merchantability, fitness for a particular purpose, or non-infringement.
Raspberry Pi is a trademark of the Raspberry Pi Foundation.