Build a player with the SmartiPi Touch case
This page shows various recipes for using the official touch display and SmartiPi cases from SmartiCase to make a really great looking player. There are 3 different players shown here and the various options and tradeoffs are discussed along with shopping lists.
My goal is simple, to build a player that I do not have to apologise for.
SmartiPi Touch Pro with RPi3B+ and JustBoom Digi Hat
This player uses the latest model, the SmartiPi Touch Pro. It is easily the best looking and most suitable case to make a great looking player. The layout allows for everything to be hidden and adapted to any combination of hardware.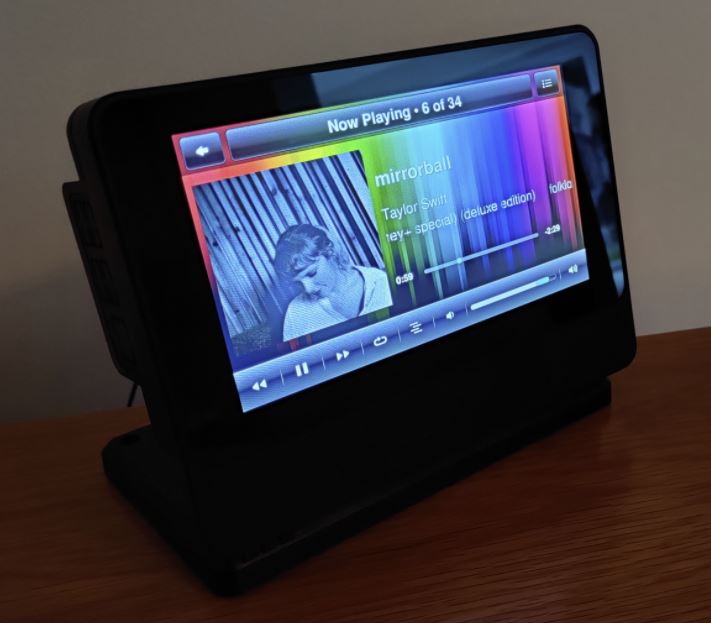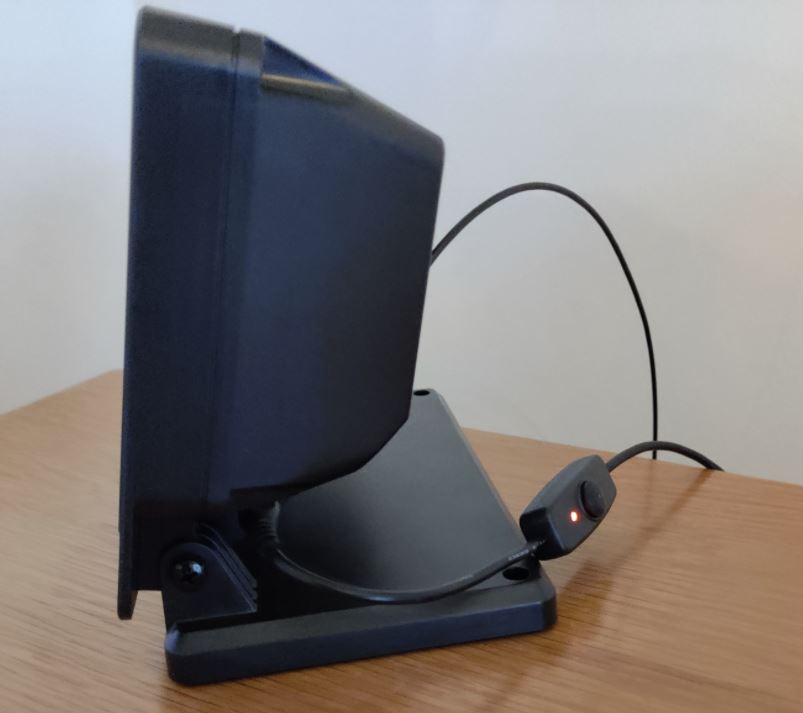 The Parts List
Official power supply to match
Add-on switch to that power supply so I can turn it off easily (see notes below)
MicroSD card
JustBoom Digi Hat - I run digital output on this player
SPDIF cable - thin so it behaves well
USB2 Extension cable to run Flirc outside
Right angle USB adapter cable
piCorePlayer
Notes on this
Here are the lessons I learned from this one:
Install the power cables for the fan to the display (step 1 of the SmartiPi instructions) even if you do not intend to use them immediately. You will have to dismantle the whole thing to put them in afterwards. Since the photos were taken I have added the fan.
The standard size back of the case is all you need for a standard HAT.
I get most parts from The Pi Hut and the little bits from eBay.
I cut holes in the back of the case using a cheap, Dremel-style, tool. (not shown in the photos).
SmartiPi supply an optional metal plate for the bottom to counter balance the display. I nearly need it.
I use a Squeezebox remote.
You can easily use a RPi3A+ if you just want wifi. Cheaper, smaller.
I added a switch to the power cable and then added a right-angle adapter. This combination resulted in a voltage drop enough to give me continuous warnings. The switch had to go. My advice - buy an official power supply with switch built in.
Once any of these machines are built the SD card is hard to access. I don't mind because I upgrade the software in place.
Inside
Look carefully and you will notice that I have mounted the RPi deep inside the machine away from the sides. Since these photos were taken I have run a USB extension cable out of the bottom with the Flirc V2 receiver hidden in the hifi cabinet out of sight.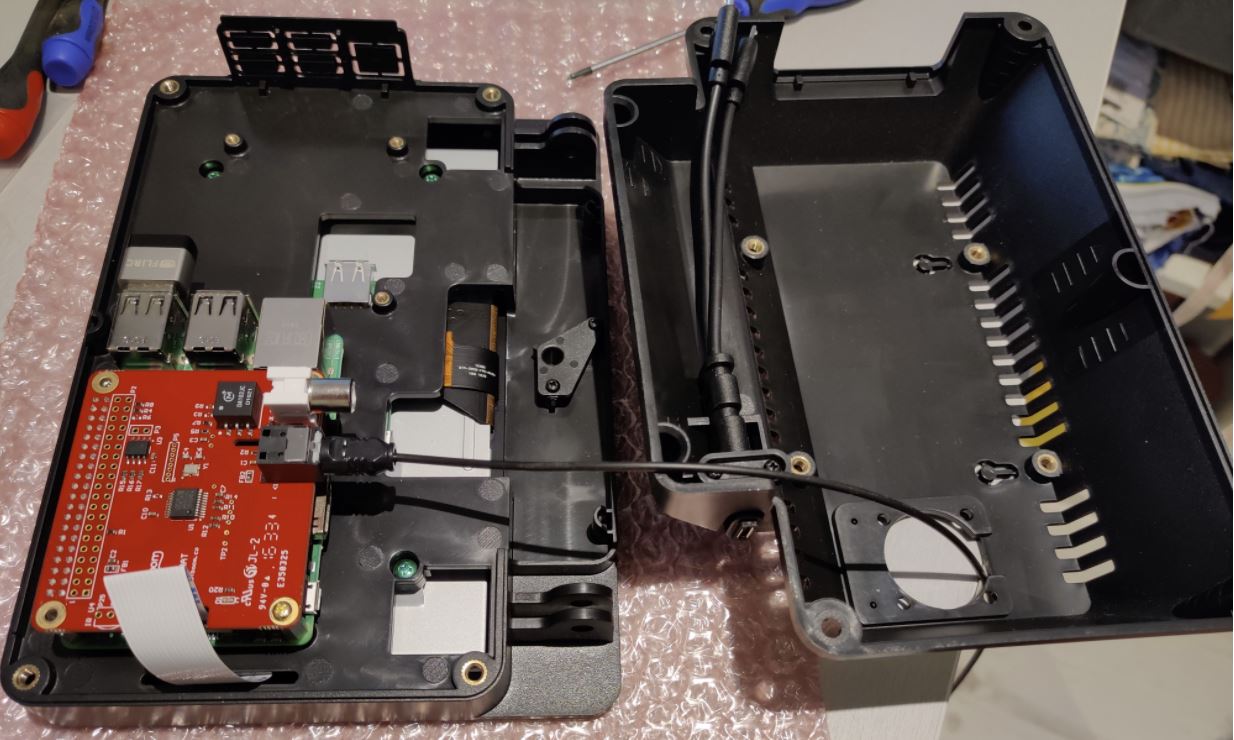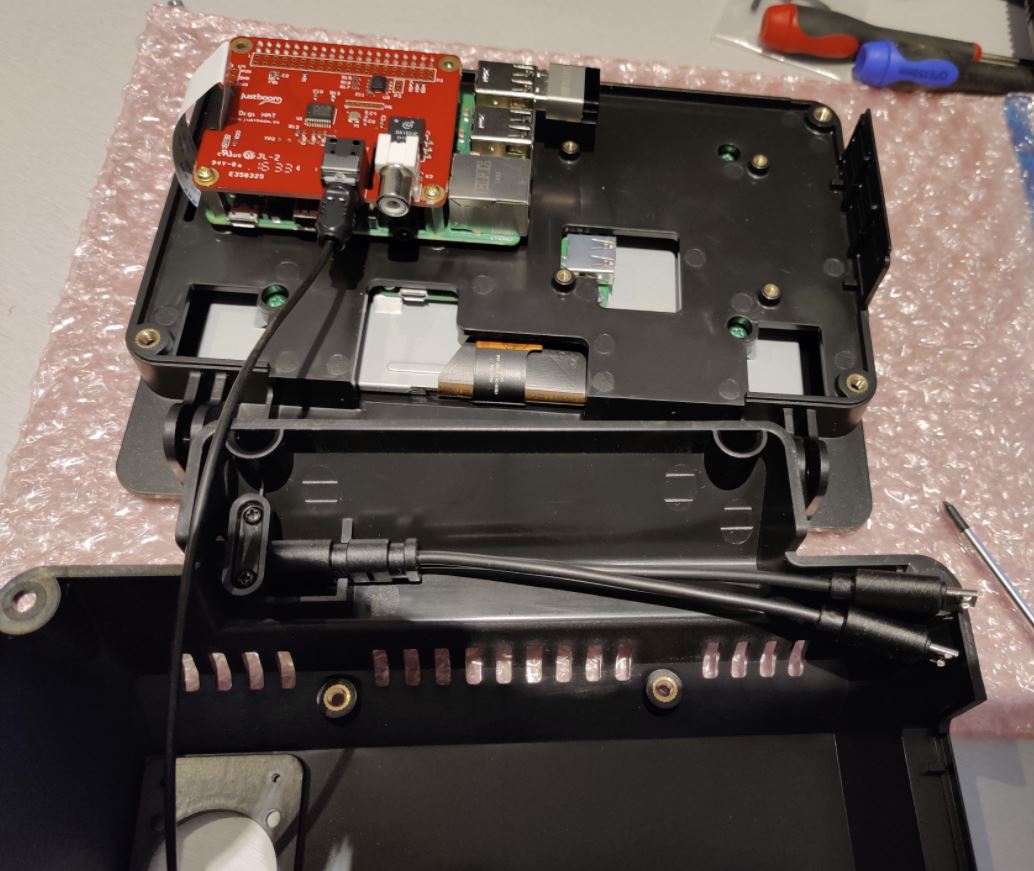 SmartiPi Touch 2 with RPi4B and USB DAC
This player is in my office and I don't mind that it doesn't look so good because the sound is amazing.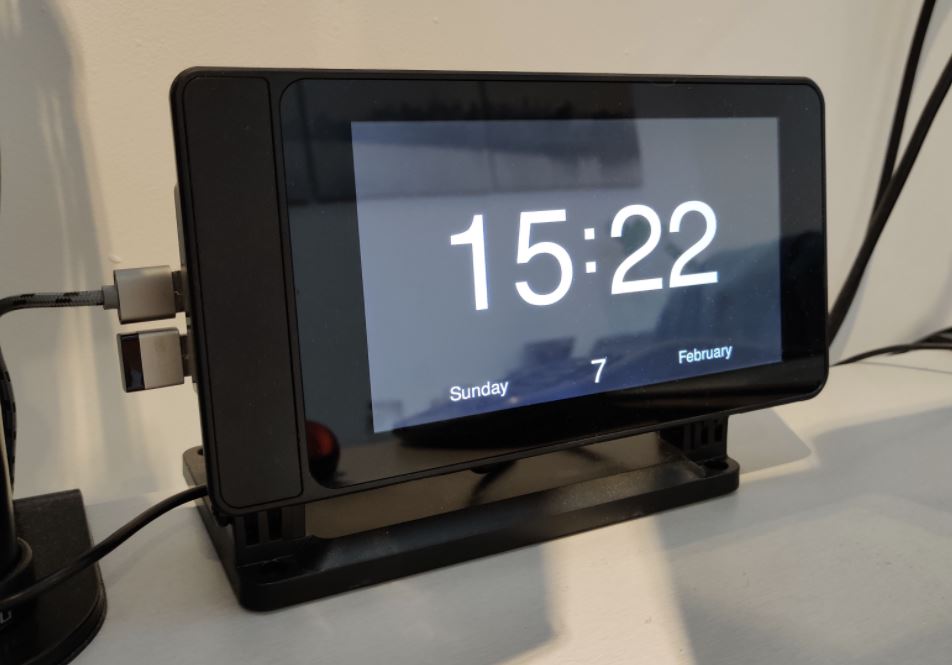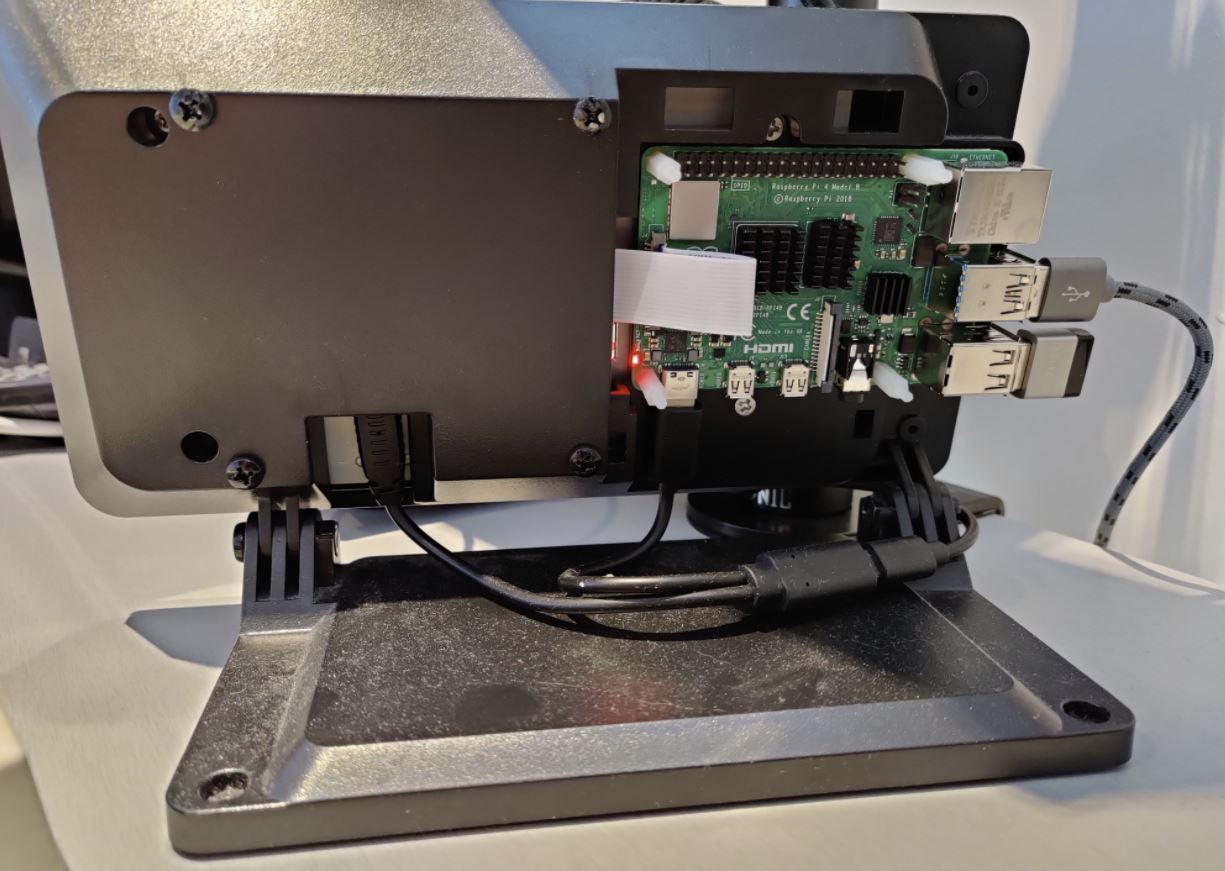 The Parts List
Heatsinks
Add-on switch for the power supply
MicroSD card
Case for the Khadas from Audiophonics
My understanding is that a RPi4B is much better for a USB DAC than any other.
SmartiPi Touch 1 with RPi3A+ and HiFiBerry DAC+
This one is a Touch 1 case I happened to pick up second hand. It uses a RPi3A+ which is a very overlooked option. It is shorter and hides really well behind this case. The Flirc V2 USB receiver does not show from the front making for a very good solution.
In this case I am using the HiFiBerry DAC+ card with right-angle phono adapters picked up from eBay. Notice that the RPi is held in place by a piece of plastic that came with the SmartiPi. Hardly any screws here at all.
It is very easy to set up the WiFi just after you download piCorePlayer to the SD card.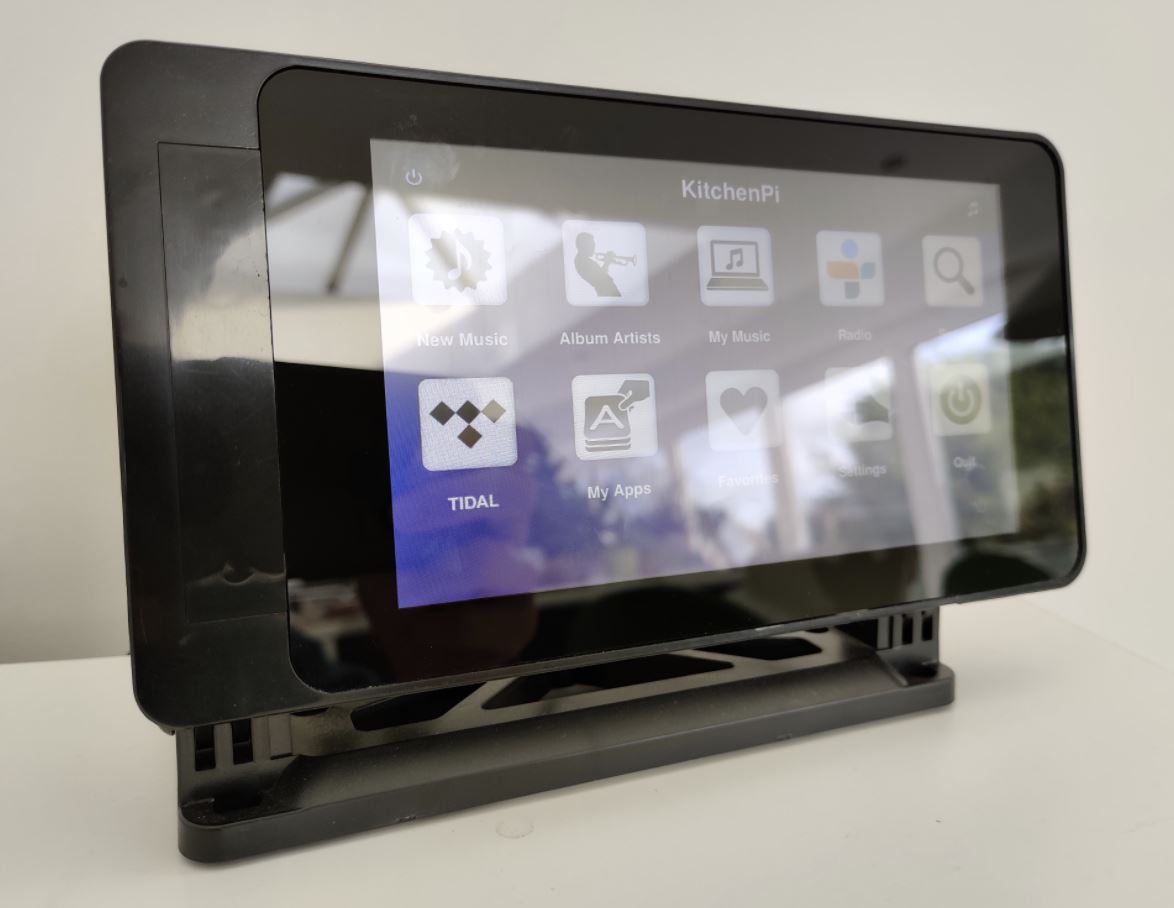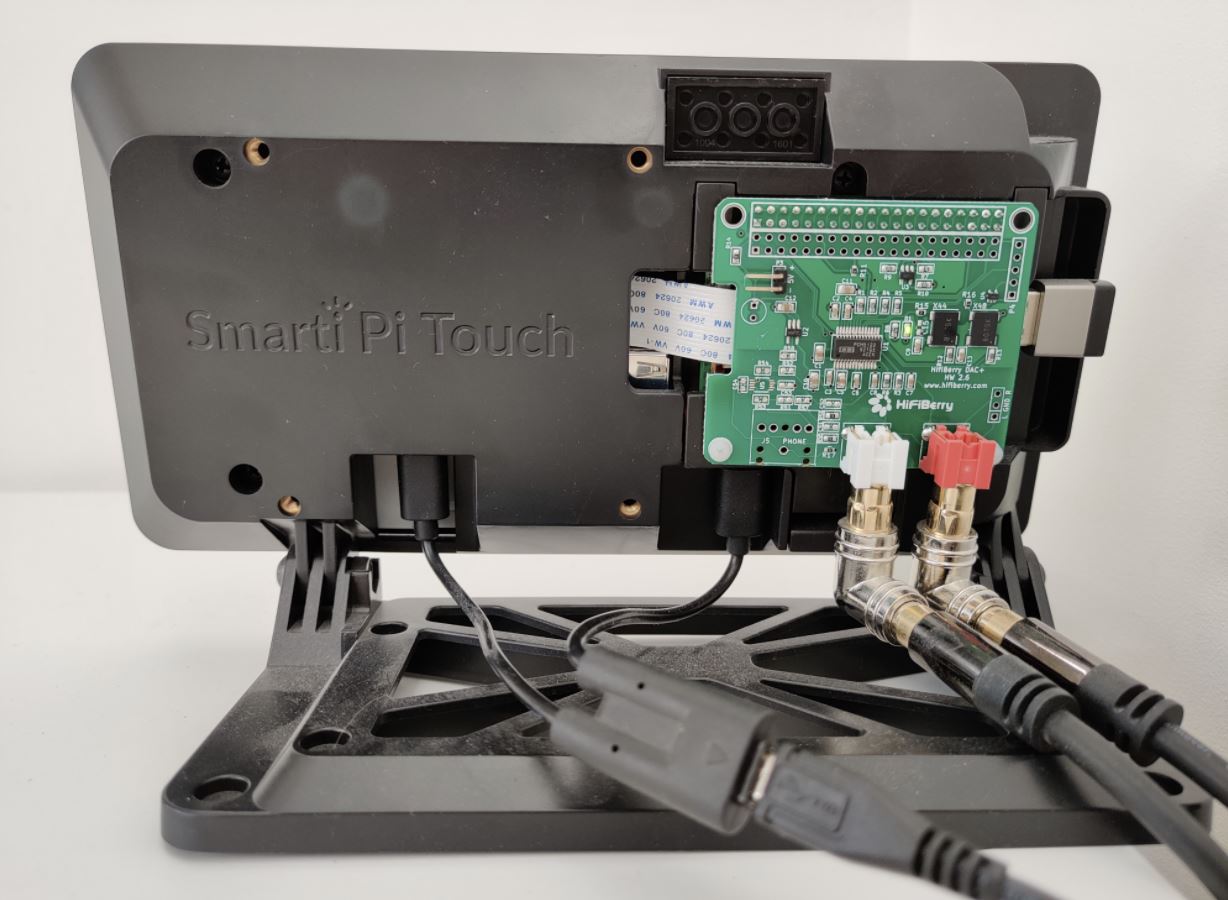 Tradeoffs and Lessons Learned
A RPi4B is overkill for a pure player and runs hotter than a RPi3.
In the summer here in the UK the Touch Pro machine will definitely need the fan.
I run LMS on a dedicated RPi4B with attached SSD.
When looking for a remote to use with a Flirc, make sure it has play and pause buttons.
More information
The Software and Information is provided "as is" without warranty of any kind, either express or implied, including without limitation any implied warranties of condition, uninterrupted use, merchantability, fitness for a particular purpose, or non-infringement.
Raspberry Pi is a trademark of the Raspberry Pi Foundation.